Links are referral- see policy linked from main page. I post the best deals on pet food and supplies I find. You get a good deal and I get commission ( no cost to you) on sales made through my links.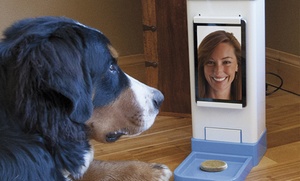 Keep tabs on your pets while you're away from home with this WiFi-enabled pet treat dispenser from iCPooch. The dispenser connects to your household WiFi network so you can dole out treats remotely via a free iOS or Android smartphone app. On the front of the dispenser, adjustable brackets can be used to secure a second smartphone or tablet, which can also be controlled via the remote app to let you video-chat with your pet—just to keep an eye on them or calm them with their favorite lullaby.
Thanks! Cicero Priscilla Chaplin Mabel and Beatrix also THANK YOU! Meow!... With Subscribe & Save, you receive a discount off the Amazon and Amazon Marketplace everyday low price,
free standard shipping
, and the convenience of automatic deliveries when you receive your subscriptions on your monthly Subscribe & Save delivery day. There are no commitments, obligations, or fees and you can
cancel a subscription at any time.